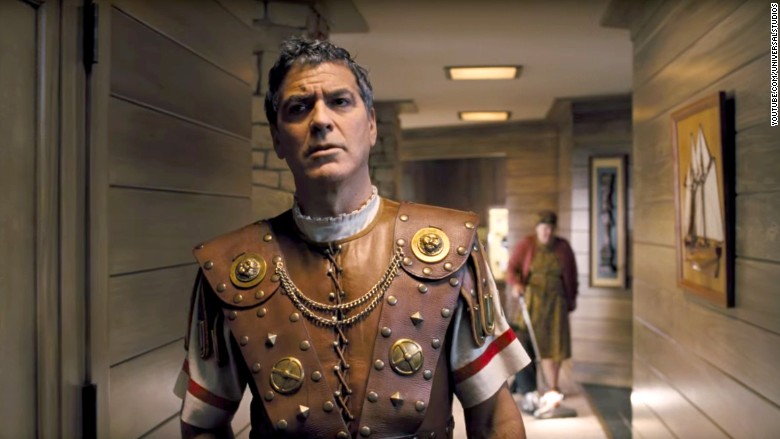 The Coen brothers' latest movie "Hail Ceasar!" will attempt to conquer Super Bowl weekend.
The Universal picture is set around a film about ancient Rome during the golden age of old Hollywood, and has a phalanx of stars including George Clooney, Scarlett Johansson, Channing Tatum, Josh Brolin, Ralph Fiennes, and Jonah Hill.
Box office analysts are projecting the film to have a $15 million opening weekend. Universal puts the forecast a bit lower at $10 million. The movie cost $22 million to make.
Yet, there's one big outlier that could skew box office predictions and ticket sales this weekend: Super Bowl 50.
The NFL's big game is the TV event of the year and can keep audiences out of theaters.
The biggest box office opening on a Super Bowl weekend belongs to Disney's "Hannah Montana/Miley Cyrus: Best of Both Worlds Concert Tour" which made $31.1 million in 2008.
However, the game could also work to the film's advantage.
"As counter-intuitive as it seems, opening a movie over Super Bowl weekend can actually be a smart move for studios," said Paul Dergarabedian, senior media analyst for comScore (SCOR). "They can take advantage of the fact that audiences may want to strike a balance between staying home all afternoon on Sunday and wanting to get out of the house earlier in the weekend."
Dergarabedian added the Super Bowl doesn't run all weekend long so "there's plenty of time to take in a movie before Super Bowl Sunday."
Related: 'Kung Fu Panda 3' kicks up a big box office for Fox, DreamWorks
"Hail, Caesar!" will have some competition from last weekend's box office big winner, "Kung Fu Panda 3," but "Caesar" could get a boost from its directors, the Coen brothers.
The films of Coen brothers have only made roughly $540 million at the domestic box office, but the two have won multiple Oscars and have created many beloved films such as "The Big Lebowski" and "Fargo."
With a 78% fresh score on review site RottenTomatoes.com, "Hail, Caesar" hopes to be the next in the Coen canon.
"Their body of work and reputation is not box office dependent but rather a product of the Coen's delivering time after time, an incredible movie-going experience," Dergarabedian added. "Hell, how many directors can you think of that have a brand name like the Coen brothers?"
CNNMoney (New York) First published February 5, 2016: 5:09 PM ET